How to Effectively Lead Your Sales Team – part 1
---
Posted on Wednesday, May 25th, 2016
---
---
A sales team is unlike any other part of an organization. It often runs with its own set of rules and expectations  and its results affect the overall operations greater than other departments.. Given the importance of their role to the business, it is crucial to give your sales team effective leadership, and it is no secret that providing good leadership to your sales team and making sure it remains productive is one of the most challenging jobs in a company.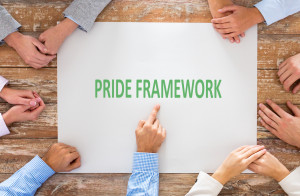 Rely on an Effective Leadership Style
We advocate a sales leadership framework called PRIDE, based on the belief that sales Performance is achieved when Right people are Inspired and Developed in the right Environment. Leaving the explanation of the Pride framework to a later article, it's worth mentioning that leadership framework and leadership styles need to complement each other. Once we cover all components in the Pride framework, the leadership style will have to be adjusted to the phase of maturity of each individual rep. Daniel Goleman broadly discussed this in his theory of "Situational Leadership". As an example of situational leadership that you may face, I can share a personal experience: in one of my sales management roles in the UK a few years ago, I was leading a team where reps had very different tenure with the most seasoned having well over 10 years of experience and the rookie having less than 2 months' worth of experience. Managing most seasoned reps was a matter of rapport, trust and delegation, whereas with new reps I had to be a lot more task oriented and directive leaving rapport to a later stage in the relationship. "The proof is in the pudding": by the end of the year we were among the top teams globally.
No matter what style you choose, the goal is the same: to maximize your influence and ensure  the sales team reaches its maximum potential.
Of course, while not all leadership styles are suitable to your individual needs, there are a few best practices that will help you finding your ideal style:
Commit employees to their work. Engage your team members by recognizing their accomplishments and addressing their needs. This encourages them to take ownership of their work and be more committed to their jobs. Avoid at any cost Victimism in your team.
Promote development. You can do that through formal and informal ways. It can be done at team level and on an individual basis. In whatever way you decide to do it, one important rule is that each member of the team is personally responsible of his own development. As a leader, your responsibility is to support and guide the development process, but not enforcing it on people showing low interest in it. If you selected right people in the first place, they should be hustling you asking to be trained, shown and taught. Supporting development increases your team's productivity and fosters loyalty.
Engage employees from all branches of the company. Be flexible and consistent when dealing with your reps and remember that "what you permit you promote".
Familiarize yourself with the other departments and strategize ways they can help support your team. When done correctly and with the right communication, your team will learn the skill and will start building relationships everywhere in the company.

In the second part of this article we'll enter more in depth on critical aspects of effectively leading your sales team.

With these  in mind, you now have everything you need to get started to effectively lead your sales team. You need to keep in mind it will take some time before you get the results you expect. Throughout this endeavor, be patient and make sure you do not give others the opportunity to criticize you or your ability to perform. But at the same time, this does not mean you go about implementing strict policies, as you will have to maintain a proper balance to make sure your sales team performs and continues to do so while you are in charge.
---