What We Can Learn About Leadership from Great Sport Coaches
---
Posted on Wednesday, May 18th, 2016
---
---
Leaders are born, not made. Leadership is a product of nature, not nurture. Now, the real question here is determining how one could attain this quality with the various others which are necessary to be a successful leader. As a leader, you have to be patient, understanding, confident, productive and determined, but this is just the icing on the cake.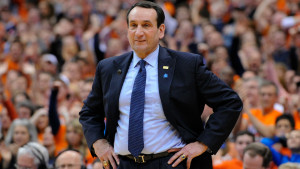 Mike Krzyzewski photo credits: sportingnews.com
If you are looking to become a successful leader, you need to be willing to learn from others. Being a leader requires you to be open to new ideas, and learn from your mistakes. If you play your cards right, there is nothing that can stop you from reaching your goals and from being an excellent leader. If you are not sure where you should start, you can go about doing so by gaining inspiration from great sport coaches.
Believe it or not, some leading sports coaches can provide you the lessons you need to become a great leader:
Vince Lombardi
There is a perfectly good reason Vince Lombardi and his legacy is honored on the Super Bowl Trophy. The Vince Lombardi Trophy bears witness to the fact he was a true leader, even though he coached the Packers for just seven years. He still left a legacy that is still remembered. Through his determination, you will learn it barely matters if you are knocked out for the count. What really matters is whether you get up no matter how tough things get.
As a leader, you will face challenges and the only way you can overcome them is going at them head on. No matter how many times you fail, you have to keep trying. Nothing comes easy in life, and the only real way to success is by being patient and struggling. The only reason one falls is so he/she can learn to pick themselves up again, and that is what being a leader really means.
John Wooden
John Wooden was not only a great coach, but also an inspiration and a motivational figure for many. He was one of the few to understand the importance of inspiring others and this includes his own players. He believed in simplicity and the need for a calm approach to achieve success and this approach has proven quite successful. The fact that Wooden was able to bag 10 NCAA championships in 12 years is more than enough evidence to support his leadership style and his ideologies.
As a coach, Wooden believed in an individual's ability to learn along the way. No matter how weak an individual is, they can get better. The same can be said about acquiring new abilities, and that is more than enough for an individual to reach their true potential. This shows that as a leader, you need to rely on your abilities more than anything else. You need to be confident in yourself, and use what you have learnt to make progress.
Mike Krzyzewski
Better known as Coach K, Mike was a Duke Coach for quite some time. He is recognized for being the best for a good reason, as he led the Blue Devils to four championships and also led Team USA to the Summer Olympics in 2008, where they won the gold. As a leader, he explained the importance of accepting your weaknesses and fears instead of ignoring them.
Once you truly know yourself, there is little that can stop you from reaching your true potential. The only requirement here is you need to push yourself to overcome your fears and weaknesses. When that is taken care of, there is no reason you will not be able to lead others. In fact, you will be able to do more than just to guide them, but you will inspire them to be their absolute best, which was quite apparent with the way Mike Krzyzewski led his team on.
The aforementioned sports coaches are just a few of the many that have a lot to offer to those who wish to learn about becoming a better leader. You should use these examples to inspire you being a better leader and give you an idea of the efforts you have to make to be the best.
---